What is Sildenafil?
Sildenafil is the most commonly prescribed ingredient for the treatment of erection problems and is used by over 20 million men worldwide.
Sildenafil is approved by the Federal Drug Administration (FDA) and is the active ingredient in branded Viagra. It works in the same way, increasing the flow of blood to the penis so that you can achieve and maintain a firm erection throughout sexual intercourse.
Sildenafil works quickly in the system, taking effect in under an hour and remaining active for up to four hours. Sildenafil tablets are available to buy in doses of 50 mg and 100 mg.
Viagra is the brand name for the active ingredient sildenafil and is produced by Pfizer. The generic version of Sildenafil is manufactured by multiple companies.
Benefits of using Sildenafil?
Erectile dysfunction (ED) can lead to, and be caused by, psychological issues such as relationship problems, depression and performance anxiety. Performance anxiety is the most common cause of erectile issues among younger men.
Whilst sildenafil can help alleviate the physiological factors behind erectile dysfunction, it's always best to talk through any psychological problems with your partner.
Sildenafil is also approved to treat pulmonary arterial hypertension, but under the brand name Revatio (Pfizer).
How does Sildenafil work?
Erectile dysfunction occurs when the blood flow to the penis is limited, preventing a strong enough erection required for sexual activity. This is due to an abundance of an enzyme called phosphodiesterase type 5 (PDE 5). The majority of erectile dysfunction medications are in the PDE5-inhibitor family of drugs, meaning they all work in a similar capacity.
The active ingredient, sildenafil, works by restricting the impact of this enzyme so that the blood vessels in your penis can open sufficiently. This ensures that there is sufficient blood flow when you are aroused or get sexual stimulation. The result is a stronger erection that can be sustained for a longer duration.
How do I take Sildenafil?
Always follow the advice of your doctor when taking any medication. More information can be found in the patient information leaflet to the right of this page. Below is a summary of how to use Sildenafil:
take one pill 30-60 minutes before sexual activity
take the pill with water, but avoid a large meal as it can take away its effect
do not take more than one tablet within 24 hours
your doctor can adjust the dose if you suffer from side effects or if your prescribed dose isn't effective enough
Sildenafil can last for up to four hours. However, this doesn't mean you'll be erect throughout that time. After you climax, your penis will return to its flaccid state until the next time you are aroused. Like other PDE-5 inhibitor medications, Sildenafil doesn't increase your sexual desire but will enhance the strength of your erections when you do become sexually aroused.
Sildenafil should be kept at room temperature.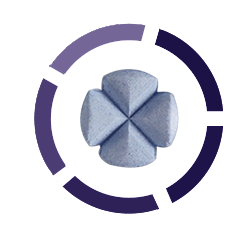 One tablet should be taken at least 30-60 mins before intercourse, preferably on an empty stomach
The tablet will only work if you're sexually aroused
The tablets should only be taken when needed.
The pill box/packet should be stored at room temperature
It is not advised to take more than one tablet in 24 hours for health reasons
What doses of Sildenafil are available?
Sildenafil is available in three different strengths - 25 mg, 50 mg and 100 mg.
The recommended starting dose for Sildenafil is 50 mg. For men who experience negative side effects, this can be lowered to 25 mg. For men where 50mg is not effective enough, and doesn't cause any unwanted side effects, then the dose can be increased to 100mg.
25mg - for men known to experience frequent side effects
50mg - the recommended starting dosage
100mg - for men who have found the 50mg to be ineffective
What are the possible side effects?
Most of the side effects associated with Sildenafil are mild in nature and are unlikely to affect you. Nevertheless, it's always helpful to know the risks before buying any prescription medication online.
Common side effects include:
stuffy nose
dizziness
headaches
indigestion
facial flushing
cough
diarrhea
fluid retention
skin reactions
stomach discomfort
stomach disorders
tremor
vasodilation
eye problems such as vision loss
hearing loss
blurred vision
increased risk of infection
insomnia
nasal complaints
nausea
alopecia
anemia
anxiety
night sweats
pain
One rare side effect is priapism, which is a long-lasting and painful erection. If this occurs, you need to seek immediate medical help.
If you're concerned about how you'll react to the treatment, or have experienced adverse effects in the past, always disclose full details of your medical history to our doctors, and they will be able to determine whether it is the right treatment for you.
What precautions should I take when taking Sildenafil?
You should not take Sildenafil if you:
are allergic to any of the ingredients
have or have had heart problems, such as cardiovascular disease or heart disease, including angina, heart attack, heart failure, or a stroke
have kidney or liver disease
have low blood pressure
have sickle cell anemia, leukemia, or multiple myeloma
have galactose intolerance
have or have had renal dysfunction
have a rare eye disease, such as retinitis pigmentosa
uncontrolled high blood pressure
have severe damage/deformity to the penis, such as Peyronie's disease
are currently taking a nitrate medication, such as nitroglycerin, isosorbide dinitrate, or isosorbide mononitrate
Serious side effects are rare with Sildenafil and an allergic reaction is extremely unlikely, however, if you experience difficulties breathing, develop hives, experience chest pain, or suddenly lose your vision, seek immediate medical help.
You can always seek medical advice if you are unsure if you should continue taking the medication or not.
Sildenafil with food and alcohol
Although there are no known negative interactions between sildenafil use and alcohol consumption, it is suggested that the user limits the amount of alcohol consumed before and after the use of the treatment as its effectiveness may be compromised.
You should avoid eating grapefruit or drinking grapefruit juice as it can increase the levels of free flowing sildenafil citrate in the blood. This can significantly lower the blood pressure in the body, which could lead to an increased risk of side effects and other serious cardiac problems.
Interactions with other medicines
Prescription drugs can interact with both other prescription medication and over-the-counter medicine, and you need to include all treatments that you use when you want this medicine prescribed.
Sildenafil should not be taken alongside other PDE-5 inhibitors or erectile dysfunction treatments, such as Cialis (tadalafil), Spedra (avanafil) or Levitra (vardenafil).
You should also not take Sildenafil if you:
use medications containing nitrates
use recreational drugs or 'poppers' which contain amyl nitrite and butyl nitrite
alpha-blockers
cyp3a4 inhibitors
use medication such as ketoconazole, as it can increase the effect of sildenafil
Because of these potential drug interactions, it is important that your doctor or healthcare provider determine if Sildenafil is compatible with any other medical conditions or current medications.
You may be able to take this medication at a lower dose even if you already take certain drugs or have pre-existing conditions, so always disclose your full medical history.
Can I buy Sildenafil online?
You can buy Sildenafil with Speedy Health by completing a free online doctor consultation in order to be issued a prescription. This only takes a few minutes and allows our licensed US doctors to assess your medical information and decide if Sildenafil is the best treatment for you.
Alternatives to Sildenafil
If Sildenafil isn't the right impotence treatment for you, there are several other treatments available here at Speedy Health. These include, Viagra, Tadalafil, Cialis, Cialis Daily, Levitra, Stendra, Vardenafil, or Staxyn.